Thermal Imaging Conference – TIC 2022
SEPTEMBER 19 – 22, 2022 ♦ SOUTH LAKE TAHOE, NV ♦ USA

Click here to download the Sponsor Opportunities
Click here to download the Sponsor Agreement
Dear Potential Exhibitor and Sponsor:
The 2022 Thermal Imaging Conference will be held at the Bally's Lake Tahoe Casino Resort in South Lake Tahoe, Nevada. Featuring 24/7 gaming action, several dining outlets, and the best entertainment and nightlife options, Bally's offers a unique and memorable experience. The property is home to Ciera, the only AAA Four Diamond Award-winning steakhouse in Lake Tahoe, and to the Bally's Showroom, the largest indoor entertainment venue in Lake Tahoe. Bally's is located at 55 Highway 50 in Stateline, NV. The resort is a short, one-hour drive from the Reno-Tahoe International Airport with a regularly scheduled shuttle service from the airport direct to the hotel (approx. $59 round trip).
TIC is the contractors' choice for Thermal Imaging Education and will be your opportunity to be right there with them. To view photos from our past conferences: CLICK HERE. Sponsoring the Thermal Imaging Conference is your chance to be at a place where you can network and integrate with both established and new thermographers, and building inspectors. You will have the opportunity to present your products not only personally at your booth but also in front of everyone at the conference during meals, breaks, and formal education sessions. Our attendees are highly motivated to know everything about your products, and we arrange the conference so that they will. Most of the attendees are small business owners who are contract thermographers and building inspectors, so every feature you offer means something to them. At TIC 2022, you will have the opportunity to showcase your products to an interested and engaged audience.
The exhibit hall is set in the main dining area so that attendees will access the exhibits at all breaks. Having meals and refreshments in the exhibit hall provides your company with maximum exposure to showcase your products. Below, find the information you need to take advantage of the exhibition and sponsorship opportunities, along with general information.
TIC 2022 will focus on the use of thermography and related tools in the following application areas:
Building Surveying
Building Moisture Detection
Construction Defect Testing and Commissioning
Roof Moisture Surveying
Air Leak and Heat Loss Testing in Residential, Commercial, and Institutional Buildings
Electrical Predictive Maintenance
HVAC and Mechanical Applications
Medical IR Imaging — Body Temperature Screening
Research and Development
Please consider participating in the TIC. We want to work with you to create the most successful event that you have ever been to. I think you will be pleased with what you see in this document. Please do not hesitate to contact us to discuss a customized solution for your company.
Exhibiting / Sponsoring General Information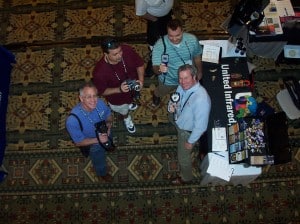 Overview of TIC
Thermal Imaging Conference (TIC) will be held Monday, September 19 to Thursday, September 22, 2022, at  Bally's Lake Tahoe Casino Resort in South Lake Tahoe, NV. The conference is designed to provide an exciting format for professional development, education, and networking opportunities for all contractors interested in learning the technical and business aspects of contracting thermographic services and running a successful business.
Conference Theme: "Elevate Your Vision"
Our conference is designed to teach our attendees the secrets of success from seasoned professionals who are experienced in building moisture, electrical problems, heat loss, and even medical applications. Thermography has proven to be an effective tool for the identification of common defects; however, in almost all cases, ancillary equipment and services are necessary. For example, moisture meters, amperage clamps, underground imaging equipment, ultrasound, and including business support services like insurance and marketing support to name a few. Our conference is designed to help our attendees with the right tools and the knowledge of how to use them.
What types of products and services appeal to our attendees?
Attendees will be interested in all products and services that help them succeed in the infrared and contracting business. IR imagers, specialty equipment that complements the contractor, infrared training, imaging software, hardware, the latest tools of the trade, instructional materials, books, and business coaching are all things that will help our attendees succeed.
What are the benefits of sponsoring TIC?
By sponsoring an event or exhibiting at TIC, your organization will be promoted to all attendees, and you get to participate and share in the success of this conference.
By exhibiting at TIC, you will increase your visibility in the thermal imaging community. You will have direct exposure with your target audience and a chance to talk one-on-one with those people who need your products and services.  We ensure that you will have multiple opportunities to visit with attendees both privately and during your public displays and presentations.
Day / Date
Exhibit Schedule
Times
Monday, Sept. 19, 2022
Registration & Booth Set-up
3:00pm – 6:00pm
Welcome Reception: TBD
6:30pm – 9:30pm
Tuesday, Sept. 20, 2022
Exhibition booths with exhibit presentations and breakout sessions
7:00am – 5:30pm
Wednesday, Sept. 21, 2022
Exhibition booths with exhibit presentations and breakout sessions
7:00am – 5:30pm
Thursday, Sept. 22, 2022
Exhibit Presentations
7:00am – 10:30am
Booth Breakdown
11:00am – 3:00pm
There will be sponsorship opportunities for after-hour events on Friday and Saturday nights.
Sponsorship and Exhibiting Options

Thermal Imaging Conference presents some great opportunities to showcase your products, profile your organization, and increase your corporate visibility. Various levels of sponsorship include opportunities for branding and promotion, including booth space, giveaways, meal sponsor recognition, exhibitor speaking opportunities, and after-hour events or hospitality suites.
All Levels of Sponsorship Include:
Listing and links to your website on the thermalimagingconference.com website, including the level of sponsorship, until the 2022 conference program announcement.
Acknowledgment during the opening reception and conference.
Opportunity to provide a full-color brochure (8½ x 11) included at conference registration.
Distribution of giveaways and promotional items to attendees in handout bag (must be provided 30 days before the conference)
Logo recognition in United Infrared's monthly newsletters to the public and members of United Infrared (est. distribution of 10,000 monthly).
Opportunity for Gold and Platinum with a free banner advertisement in United Infrared's monthly newsletter "The Photon."
All Bronze-Platinum Booth spaces come with:
10' booth space, Standard table, wastebasket, and chairs
110 volt, 10amp electrical service for Silver-platinum sponsorships, $50 (value)
Even if you are unable to attend the conference, you can still promote your organization to the well-targeted attendees by purchasing a Table-Top display ($500). We will keep the table well-stocked with your materials and ship your display back to you at the conclusion of the event (return label required)
Additional Staff registration >1 can be added at $500 each (unlimited)
Product-for-Credit Opportunity: For our Strategic Partners, we will offer a portion of your sponsorship for product credit. Contact Peter Hopkins for more information.